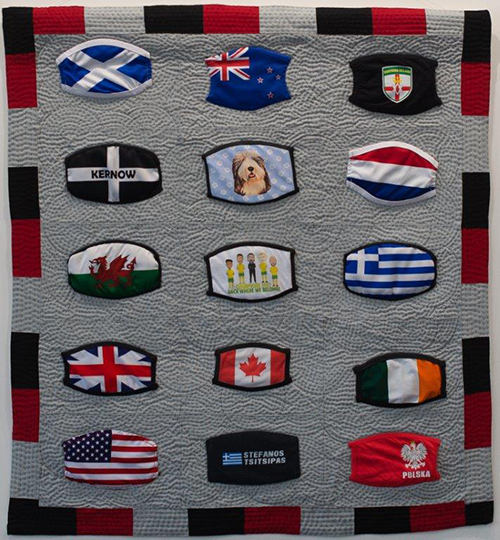 The flag of New Zealand – my cousin, Barbara, and my friend, Sue, from Open University teaching days, are both New Zealanders and I spent a wonderful month there a couple of decades ago with my father.
The flag of Scotland – memories of a seminal week in Edinburgh as an East Anglian representative at a Quilters' Guild conference.
The flag of Cornwall – St Ives is now our chosen home, and it was here that the late Roy Ray (1936- 2021), St Ives artist, taught me at the School of Painting and helped find the textile artist within me. Pete Giles and Zoe Eaton are two other St Ives artists who have played an important part in shaping my art.
The flag of Northern Ireland – my nephew, Alastair, is married to Rachel who comes from Enniskillen – and there is another interconnected set of reasons for this flag: one of my sporting heroes is the late Alex Higgins, the snooker legend, and the finest drama I have ever seen was Richard Dormer's one-man show, 'Hurricane', in which he played the role of Alex Higgins - both Richard and Alex came from Belfast.
The flag of the United Kingdom – I am a British citizen. When I was a child and off school with whooping cough, my mother took me into a fabric shop in Gerrard's Cross and my love affair with quilting began. I became, in time, the maker of textile art wedding presents, not least for the lovely daughters – Jane, Emma, and Tamsyn – of my dear cousin, Sally, and her husband, Keith.
The flag of Ireland – My married name became Louise Donovan – my husband has his roots in both Kent and Ireland.
The flag of Canada – in honour of my friends, Mel and Dan, and their sons, Jake and Finn, who emigrated as a family to make a brilliant life for themselves in Ontario.
The flag of Norwich City football club – celebrating yet another return to the Premiership – I am the acting secretary of the St Ives branch of the NCFC supporters club. It has two members – me and Rob.
The flag that gives pride of place to Bearded Collies – above all, our beloved Ella dog.
Click here to return to the Main Gallery ......
About This Quilt
Interconnections - by Louise Donovan.
Silver grey – with fifteen face masks.
With movement restricted and friends unseen, Zoom became an important part of my life at times. This has been a period to reflect on who and what is important in my life – and what better vehicle to spell out my conclusions than the life-saving face mask!
For you to find:
The flag of Wales – wonderful north Wales has been one of our boltholes – Martin, the host at the Ty Gwyn inn outside Betws-y-Coed, providing extraordinary food and lodging.
The flag of the USA – in honour of my American artist friend, Jessica.
The flag of the Netherlands – in honour of my Dutch friend, Ingrid.
The flag of Poland – my nephew, Chris, and his Polish wife, Aga, are now living in Poland.
The flag of Greece – with thanks for all those nineteen vacations spent on the Aegean island of Patmos - and for the friends we have made there, not least Mikhail and Elvira, and Nico and Ritsa.
The flag of Greece, honouring the name of its greatest tennis star, Stefanos Tsitsipas – we all need heroes; Tsitsipas is one of mine.